PRP Stem Cell Therapy at Medispa S10 Sheffield
PRP Stem Cell Therapy Treatment at Medispa S10 where we bring over 25 years of experience working alongside the most eminent plastic surgeons, dermatologists and skincare experts in the UK, to Ranmoor in Sheffield.
It is our mission to be at the forefront of the latest medical advances and it is our great pleasure to introduce our group practice offering a full range of medispa services and skincare products.
In order to contact the team here at Medispa S10 Sheffield please click here to visit our contact section. If you would like to return back to the home page for Medispa S10 Sheffield then please click here.
For more information regarding our excellent Vein Removal treatments and the great results click here. To really help clear the skin why not visit our Ache Treatment page here. Currently, we have an amazing 50% off our Laser Hair Removal, to view this quickly click here.
Why not complete the look with some fabulous skin tightening treatments by clicking here. A treatment that we offer that achieves rapid results is our Dermaroller, more information here. For some stubborn skin conditions then our Microdermabrasion treatments might be the key for you.
If you have enjoyed a little too much time in the sun and your skin is in need of some melanin love then check out our Pigmentation Treatments here. Similar to our Resurfacers & Chemical Peels you might want to look at our skin resurfacing here. Another interesting treatment might also be our Resurfacers & Chemical Peels found here. Stretch Mark removal found here.
Sweat Prevention is a very popular treatment currently due to the instant and long term result, more information is here. Have an embarrassing tattoo you need removing, then look at our services here. Similar to the Vein Removal look at our Thread Vein treatments here for more information and options. Fungal Nail treatments are detailed here. In addition to this fungal nail treatment information.
PRP Stem Cell Therapy

This innovative rejuvenating treatment goes a step further
What is PRP Stem Cell Therapy?
Platelet-rich plasma therapy very cleverly encourages the stimulation and production of new collagen. This innovative treatment shows incredible results when used as an anti-ageing solution. PRP stem cell therapy helps by smoothing out the skin and reducing signs of ageing.

Benefits of PRP Stem Cell Therapy

The PRP treatments require monthly treatments with platelet injections yearly for maintenance. Due to the time frame between treatments and follow up appointments this helps PRP to be more convenient and affordable.
Incredible Results
PRP stem cell therapy works by stimulating your body's natural collagen and elastin, using the healthy growth factors found in your own blood. Your skin will feel firmer, brighter and more rejuvenated. Typically results are seen at around 6-8 weeks, sometimes sooner.
Treatment Sessions
This treatment requires just 3 sessions (taken monthly) for optimum results. Then a maintenance treatment each year or as required.
No Downtime Needed

There is no to very minimal downtime following this treatment. You will be fine to safely drive home or back to work.
Minimal Discomfort
As a non-surgical treatment PRP there is very minimal discomfort. This is because only a small amount of blood is taken and infrequently.
How PRP really works
In order to perform this treatment, we only need a small amount of blood (around 6ml). This is similar to a normal blood test but is enough for us to use effectively when separating the cells using a centrifuge. The centrifuge spins rapidly, separating the platelets and plasma from the blood.
Is PRP Safe?
Quite simply, yes it is very safe. Our trained team of professionals have extensive experience and are fully qualified to deliver this treatment. Because it is your own blood that is used it is completely safe. Our sterile clinic treatment rooms and incredibly safe for such treatment.
Before and After PRP Stem Cell Therapy Treatments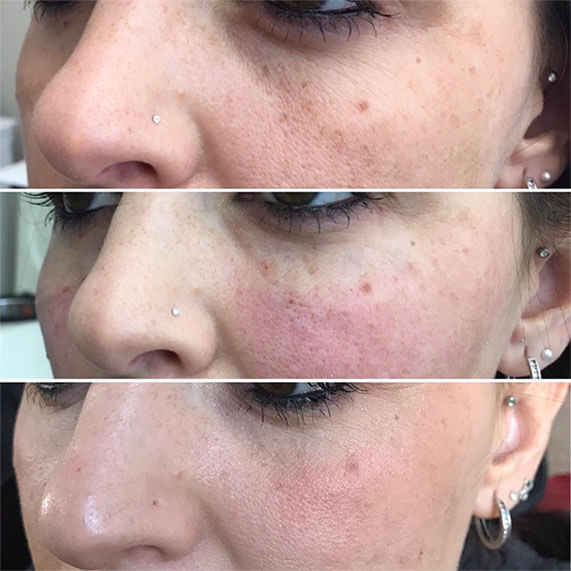 Hair Transplants
We work closely with expert medical professionals in the UK and abroad in order to offer confidential advice regarding hair transplants. Using the cutting edge FUE sapphire method enables us to give advice regarding a number of options available for those wanting to explore all available options.
Get in Touch:
If you would like more information about our incredible PRP Stem Cell Therapy treatments get in touch. We offer consultations for this treatment to make sure that it is suitable for you. Feel free to complete the contact form and a member of our team will get back to you shortly. Alternatively, you are welcome to call us and speak with us right away.
Phone: 0114 263 0124